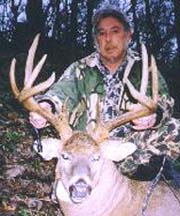 Bob has done it again and this was the "Little One"..!
Bob Fuhrman, who lives near Lancaster, PA has done it again. You saw his fine 1995 Iowa 15 point buck on the previous page..he now follows with this 1998 season Illinois monster...!
Bob got into his stand before daylight and about 10 minutes before you could see clearly all hell broke loose in a buck fight that was 60 yards behind his stand. The doe that these two bucks were fighting over left the fight scene and proceeded to come directly under Bob's stand. With the "bait" on the move the fight ended quickly and a massive 10 point buck of 185" B&C proportions came after the doe but got by the stand before Bob could get off a shot. The other buck, a 9 pointer that outweighed the "Booner" by 50 pounds, came to break up the love fest and the fight began again in earnest about 45 yards in front of Bob..! The 9 pointer was the dominant of the two deer and quickly caused the "Booner" to turn tail.
The doe then proceeded to come toward Bob with the 9 point following her every step. When the range was down to 25 yards, Bob placed his arrow perfectly and the bruiser shown above piled up 45 yards later. He scores 148 gross and is the second Pope and Young white-tail for him.
This isn't the end of the story however. Bob had purchased two buck tags with his Illinois license; however when he got to camp he found that the camp had a one buck policy. The "Booner" that had been hanging around, now walked up to within 15 yards of his stand, stopped and seemed to wonder what had happened to the bully that had just kicked his butt and lustfully looked at the newly widowed doe....! Bob drew on him and had him "cold" but thought that this was such a fine and productive camp and not wanting to jeopardize future hunts with the outfitter let the "Booner" walk..! When Bob told the story back at camp, the outfitter surprised him with his response that he should have put the Booner down too since it would have been so good for the outfitter's future business to have a Pope and Young and a Boone & Crockett buck killed within minutes of each other by the same hunter. Oh well, it was just a "Booner", people pass them up all the time....sure they do..! Bob says wait till next year..!
---