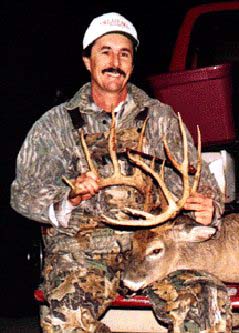 Ed's Fantastic Pope & Young Oklahoma Buck
What a deer Ed Batchelor took in Atoka County, Oklahoma with his bow in 1997, this one goes 173 1/8 as a non-typical, and 146 7/8 as a typical...!!
Ed first saw this buck in October 1996 when he was hunting overlooking an active scrape. The buck came near the scrape, easily within bow range, but the way things worked out, never permitted a clear shot. Ed told his hunting companions about the buck but no one seemed to really appreciate the magnitude of this buck since Ed was the only one that had seen him.
The next encounter came a year later in early November 1997 when Ed saw the buck cross the road in front of his jeep. By now Ed was determined that this buck was going to be his. He started doctoring a scrape with scents and stuck with hunting even though the scrape was seeing no activity.
Finally on the 10th of November, Ed's patience paid off when the buck came directly to the scrape and presented him with the only available shot, one directly down between the shoulder blades. In spite of the panic that was associated with seeing "nothing but horns", Ed's aim was true. This record book buck was finally his..!
Ed gives due credit to God who gave us these magnificant animals, and to his wife and his foreman that generously permit him to have plenty of time to hunt.
(As a postscript to this story, Ed might also mention what all real estate people know, that "location, location, location" is pretty important in deer hunting too. The Oklahoma state record non-typical (202 gross) was taken in 1997 by Larry Luman within a 30 minute drive of the place Ed hunts.)
---


Additional photos and comments.