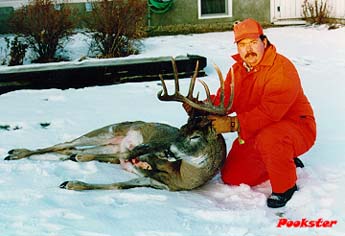 Kevin's Great Saskatchewan Buck
Kevin Poock, from Battleford, Saskatchewan took this fine 171 2/8 B&C Canadian buck while hunting in the Bronson Forest Area north of Round Lake.
Kevin, hunting in a manner learned from his extensive experience in the north woods, was moving very slowly through an area where a large buck had been seen. He would move from one spot to another where he would go through a sequence of grunts and horn rattling before moving on to another spot. A couple of miles into the bush, this fine buck jumped and tried to make his getaway. Kevin quickly recognized that he was a shooter and was able to stop him for a moment by making a sharp whistle. That moment was long enough for Kevin's 300 Mag. to put him down for good.
Now for the bad part, he was now alone with a big deer 2 miles from his vehicle..!! However, the joy that he got when he showed this monster to his buddies overcame the aches and pain from the long drag back to his transportation.
---


Additional photos and comments.