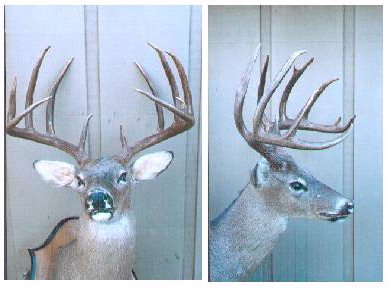 What Has 4 Letters and Starts with a "B"...???
Scott Meckel of McQueeny, Texas took this fine buck in Medina County about 16 miles south of the town of D'Hanis on December 4, 1992. This buck scores 167 B&C gross and makes the Buckmaster's records at 149 in the Typical category.
Scott arrived at the 1000 acre ranch at noon. This ranch had been under lease by Scott and 5 other hunters for 10 years and they had practiced good game management during that time. Scott decided that he would go on out to a friend's box blind rather than sit around camp and take a nap before the normal afternoon hunt. He arrived at the blind and was working on a cross word puzzle to while away the time. After about 1 hour, a couple of does hurriedly crossed a sendero that he was half-hartedly watching and this immediately took his attention away from the cross word puzzle. In a few minutes this buck was seen trailing the does and when he stopped for a moment in the sendero, Scott made a perfect shot at 160 yards with his 7mm Mag.
This mature buck made a fatal mistake in that he was in the rut and there was a hunter there to intercept him. A nap at camp would have been nice, but not nearly as nice as the thrill that Scott got in taking this fine buck back to camp.
---


Additional photos and comments.