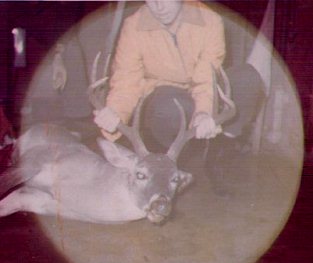 Maverick County Grande
In this photograph Venado's wife is showing off a buck taken near Eagle Pass, Texas in 1975. This is the only photograph that I shot of this great 150 class buck because in those days pictures didn't seem so important to me. This Polaroid photo sat for years in a picture frame where the faded circle was created. Sorry for the quality of the picture, but this buck is too good not to show it!
Since those days I have made a conscience effort to take "too many" pictures to ensure that one is good! The best pictures are those taken in the field where you took the animal, carry that camera and film with you. When you consider the dollar and time investment that we make in each deer we take, the price of a couple of rolls of film becomes pretty miniscule.
---


Additional photos and comments.