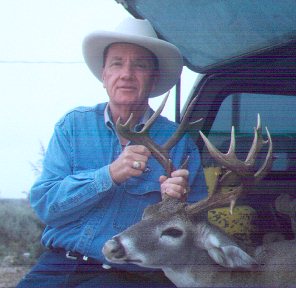 Loy Kyle Shown With 17 pt. Del Rio, Texas Buck
The photo shows Loy Kyle with the 17pt. X 17" buck that Venado took on his ranch during the 1997-1998 season. The ranch is in Val Verde County and is located in the far south-western portion of the whitetail's range in Texas; this area is noted for having large quantities but small deer. Loy's ranch is used for business purposes and is very heavily hunted for the two months of gun season; however he established quality standards for his hunters to comply with several years ago and is now beginning to see the results. This intense hunting pressure makes a buck of this magnitude very special. It had the largest antlers taken in the 6 years that Loy has had the ranch, and with a field dressed weight of 125 pounds makes it 25% heavier than the typical buck killed in that part of the state.
---


Additional photos and comments.