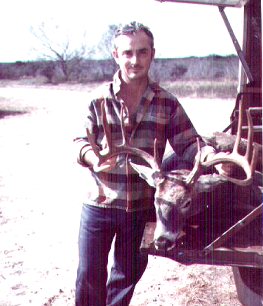 Jerry's Webb County, Texas Buck
Jerry Davis of Katy, Texas took this fine 160 class 10 pt. buck in 1971 at a ranch south of the town of Aguillares which is east of Laredo, Texas. Jerry, who is very skilled at sneaking up on bucks, took this one in December when he caught him with a group of does in a prickly pear flat very early in the morning. Good bucks tend to become nocturnal animals and Jerry was fortunate to catch this one a little more interested in the does rather than his safety. He ended the buck's party time with his 308 Norma Mag. Jerry didn't stop with killing good white-tailed deer, he went on to kill the B&C #1 non-typical Elk when that category was first established.
---


Additional photos and comments.