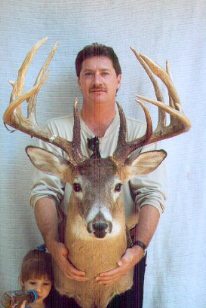 The Steve Payne Buck
Steve Payne, now living in Texas, took this fantastic buck in 1991 in Belliville, Ohio. This buck has it all! It scored 196 Buckmasters Semi-irregular and grosses about 217 B&C. It has mainbeams over 29", P2s of 14" and C1s over 5". This buck makes the book as a typical or as a non-typical B&C and is one of the best bucks ever killed by shotgun in Ohio in the Buckmasters record book.
Steve called me one day from his home and asked if I would mind scoring his deer and of course I agreed to meet and do it for him. I was shocked when I saw this monster face to face; I had never had the opportunity to score one that was this good and I felt that it was an honor to get to do so!
Although I don't know all of the details of the hunt, I understand that Steve came back to Ohio from his residence at the time, California, to hunt with a friend. They and a group of other hunters did a number of drives and late in the day Steve's turn came to hunt. This buck was pushed by drivers and Steve made the shot of his life at 80 yards with a shotgun to take this awesome buck.
---


Additional photos and comments.