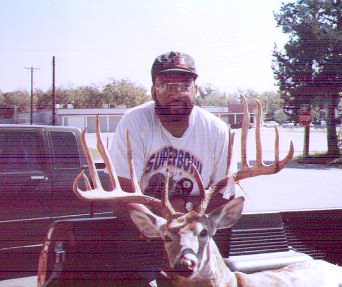 The Albert Wilson Buck
Albert Wilson of Seguin, Texas took this supurb buck at the family farm located near Seguin in Guadalupe County in November 1997. This buck, which has a 26"+ outside spread, scored 176 gross B&C, 167 net B&C, and 154 in Buckmasters Perfect Category. I was honored to have my name associated with this buck even though it was only as a scorer for Buckmasters.
The remarkable thing about this deer is that it was killed in a County that, to my knowledge, has never produced a deer of this magnitude and was killed on a farm that is approximately 120 acres and has been "meat" hunted for the past 30 years. Where this buck came from or how it survived to get mature is the real story of how big whitetails survive alongside man!
Most of the serious deer hunters in this area were amazed to see this buck and made all of us wonder why we spend thousands of dollars and travel to South Texas and Mexico when one like this lived right in "our backyard".(Photo by Carla Mergele)
---


Additional photos and comments.