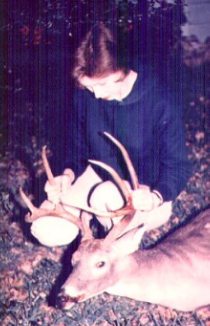 Big Buck from the Piney Woods of East Texas
Venado brought his wife into his favorite sport in the mid-1960s at their deer lease in Trinity County, which is north of Houston about 100 miles. She was a quick study as you can see by this fine buck she took in only her second season! In fact she learned so well that it took Venado 5 years to get a buck as good as this one!!
As you will note, the tines and main beams are really long, in fact the P2s are over 12", and the mass is excellent. Since that time, East Texas has responded very positively to game management activity, and some bucks killed in that area now rival those taken in South Texas.
---