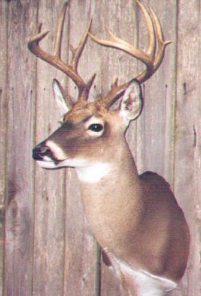 Perry's Hill Country Buck
Perry Herrington of Houston, Texas killed this fine 12 point buck on opening morning of the 1997 deer season in a section of Texas that is noted for the tremendous number of deer, but due to the intense hunting pressure, very few make it past 2 1/2 years of age. He and his wife, Phyllis, were sitting on a large tree stand platform that they built so that he could introduce her to hunting. For her, this was just a trip to watch because only the leasors are permitted to hunt the first two weeks of season. About 30 minutes after daylight they were both shocked to spot this beauty. Perry made a one shot kill with "her" new 7mm x 08!!
This buck is a perfect example to illustrate how the definition of a "trophy" buck has to vary depending on the conditions that a hunter is hunting under. This buck is the best buck killed on Perry's lease in quite a number of years, it was killed on open range, in a section of the state that is noted for its "German Sheppard" sized deer, and in a very heavily pressured lease that does nothing to provide supplemental nourishment to the deer. This buck has to be considered a serious trophy when put in that context!
---