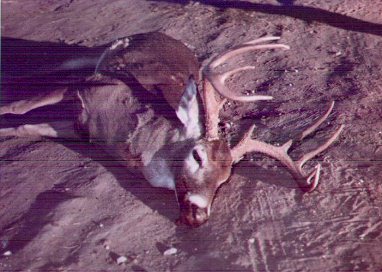 Another Maverick County, Texas Buck
When this nice 150 class 10 point buck was taken, I was hunting on a small ranch of about 1000 acres between La Pryor and Eagle Pass, Texas. This ranch was used to fatten up cattle imported from Mexico and 95% of the place was planted in oats and was heavily irrigated to make them grow. Although there wasn't a single deer that lived on the place, late in the season the deer would stream from the surrounding brushy pastures and fill this place up at night. All of the hunting occurred over two 10 to 15 minute periods, just at daylight and just before dark.
The secret to the morning hunt was to get to the field so early that any deer you disturbed would have a chance to settle down again before daylight. This meant getting into a box blind about 5:00 am for a 6:30 am chance to see what was on the field! The evening hunt was similar, but the key was to get hidden in the weeds next to the border fence so that you could use the sky as a backdrop to help evaluate a buck to ensure that he was a shooter. Hunting this way always pressed the limit on legal shooting hours, so it was always necessary to know precisely when official sunsets and sunrises were, because the game rules permitted shoting 1/2 hour before sunrise and 1/2 hour after sunset! The morning hunt was a real hassle in this regard because you could often see bucks in the oat field before it was legal shooting time and they would invariably start drifting away from you as it became closer to the the legal shooting time! Long shots were a common thing.
---


Additional photos and comments.