THE TONY FULTON BUCK
The Greatest White-tail Deer
Ever Taken by a Hunter
On January 5, 1995, Tony Fulton of Winston County, Mississippi (approximately 80 miles north west of the capitol city of Jackson) was glad that he listened to his wife, Rhonda, when she talked him into going hunting. Since time was short, Tony went to a treehouse that he had built for his son that overlooked a small greenfield. Tony admits that he had not seen a deer on this small field but things were about to change in his life forever.
After sitting for a while, Tony saw a doe as she entered the field but she ran away almost immediately. Shortly thereafter a large buck appeared on the edge of the opening looking for the doe. He was very spooked; however he ran into the field and stopped only 50 yards from Tony. Tony fired one shot with his .30-06 but the buck quickly escaped to the nearby woods.
Tony was aware that this buck had a big rack but only when he found the buck by following the buck's trail by flashlight did he begin to realize just how big..! With an outside spread of 30" and with 48 measurable points, this was some special deer.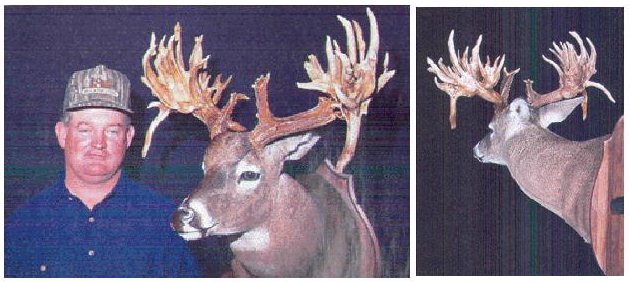 When Buckmaster's scored this buck, the wisdom behind the Buckmaster's Full Credit Scoring System came to the forefront. This system, which gives a buck credit for all of the antler grown, does not try to set a man made criteria on what a buck's antlers "should" look like. After a marathon session that lasted 6 1/2 hours, Buckmasters declared the Fulton Buck as the record hunter taken white-tail. The final Buckmaster's score is 321 7/8.

The Boone & Crockett Club's scoring system is based on standards that the club established which in essence specifies what a white-tail's antlers "should" look like. Anything that does not fit their standard results in deductions to the final score. The original B&C score on the Fulton Buck came in at 255 6/8, and though this would place the buck high in the B&C records, it was a long way from the top position. Due to the great amount of subjectivity associated with the B&C scoring system, a second opinion was sought and this second, though unofficial B&C score, came in at 329 6/8. Quite a divergence.... 74 points...!! With this level of disparity between two official scorers, B&C officials decided that they would set up a panel of judges and officially rescore the antlers. On June 13, 1998, the official Boone & Crockett score for the Fulton Buck was finalized at 295 6/8.

This final B&C score places the Fulton Buck as the third largest buck ever recorded in that system behind two deer that were found dead and recorded as "Picked Up", one in St. Louis County, Missouri (333 7/8) and one in Portage County, Ohio (328 7/8). The Buckmasters Full Credit scoring system places the Fulton Buck #2 on the list (see postscript below) at 321 7/8. The St Louis County, Missouri deer scores Buckmasters 314 6/8 and the Portage County, Ohio buck scores Buckmasters 319 4/8. Other than the obvious fact that Buckmasters counts all antler grown, one of the major reasons that Buckmasters' scores are so different from those in B&C is that inside spread or "air" doesn't count as "antler" and is not considered into the score.

Regardless of the scoring system employed, this 3 year saga officially records the Fulton Buck as having the largest antlers ever taken by a hunter in both record keeping agencies. Tony summarizes his success very simply, "I was in the right place at the right time." An understatement if there ever was one..!

POSTSCRIPT:
In an Ohio marsh in 1989 Lionel Crissman found a carcass of a buck with such unusual antlers that the Boone and Crockett Club said that they could not score the antlers. These antlers are another example of the Buckmasters Full Credit scoring system being a system that measures what nature provided. Following an all day measuring session in January 1998 for two scorers, the "Barnacle Buck", as it was knicknamed, was officially scored at 336 1/8. Though this head was unusual, the BTR scoring system permitted this animal to reach its rightful place in the records of great white-tails as having the largest antlers of any known deer.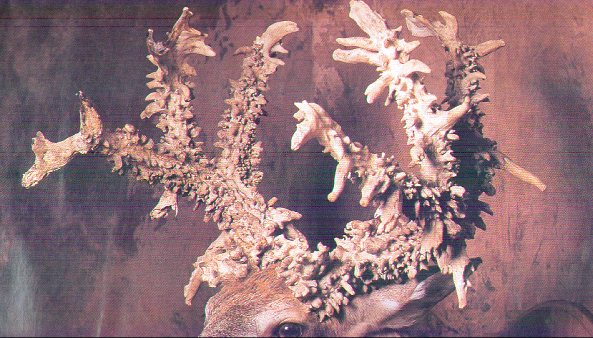 Information for this write-up was taken from information published in Buckmasters RACK Magazine, Winter Annual 1996 Issue, Buckmasters Whitetail Trophy Records, First Edition, 1996, Buckmasters Magazine, September 1998 and from an article by Bobby Crawford published in the Jackson Mississippi Clarion-Ledger Newspaper, June 28, 1998 Edition.

In honor of this great buck from the South


For more great pictures of deer and hunting tales, click on the following link: