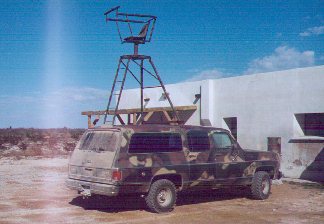 Venado's Hunting Rig
This is a photo of my 200,000+ mile 1978 Chevrolet Surburban that has been rigged up to hunt in South Texas and Mexico. Four wheel drive combined with agressive tires and a winch are almost mandatory in many areas. A quart of sealant in each tire and a healthy supply of tire plugs provides partial protection against the thorns. The high tripod, that folds over for highway transport, puts the hunter 15 feet above the ground. The swivel seat has padded arm and gun rests, a mount for a spotting scope and a tray for my camera and its 500 mm lens.
In general, the rig is parked at a sendero crossing or near a laguna where I can see for very long distances and I sit and observe where deer cross or feed in the sendero or enter the laguna. I use the spotting scope to identify trophy quality of the bucks and plan to intercept a specific buck by moving closer in a future hunt. Sometimes this is done by moving the truck closer but more commonly by setting up a small tripod or ground blind in the desired spot.
The thing that amazed me when I first started using various tripod rigs in Mexico was the idea that you could get away with sticking up like a sore thumb above the brush, yet the deer seemed to pay very little attention to you as long as you kept still....it seems illogical when you consider how spooky deer are in other places, but it works!
Some of the hunting rigs go several steps farther than mine and permit several hunters to ride on elevated platforms. Some even use remote steering and operating controls so that they can be driven from the raised platform. (Note: It is legal in Texas to hunt and shoot from a motor vehicle as long as it is on private property.)
---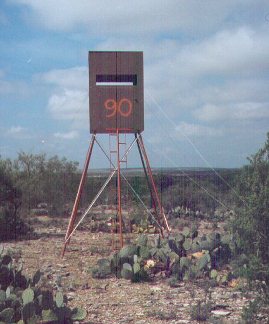 Elevated Box Blind
The permanent box blind, whether elevated or on the ground, is probably the most common method used in South Texas to hide the hunter. When these permanent blinds remain in place for a period of time, the deer become used to them and ignore them even though they stick up above the majority of the South Texas brush. They provide a fairly comfortable place to observe wildlife, to evaluate potential trophies and an effective rifle rest when long shots are required. The blind pictured is 4'x4'x6' and is on 10' tall legs; however many of these are as much as 20-25' above the ground....beware nose bleed!
Although box blinds are equally effective in Mexico, due to the transient nature of most of the leases, the use of box blinds is much more restricted. They are replaced by tripods, tall single leg guyed platforms and of course the mobile elevated platforms shown on the preceeding page.
---