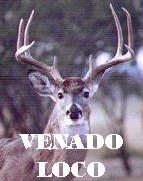 MOON PHASES AND NOCTURNAL BUCKS
Larry Weishuhn, an author whose work I really enjoy, wrote a book in 1995 entitled Hunting Mature Bucks (Library of Congress No.: 94-73648). Chapter 16 is "Hunting The Nocturnal Buck" and there Mr. Weishuhn quotes a number of respected biologists and hunting experts regarding the moon phase and the effect on hunting mature bucks. The various studies range from the moon phases having "no measurable effect" to the moon phase being "an important influence on deer movement, second only to temperature". One of the key observations held by several experts is that midday movement is significantly increased during the full moon phase. In many instances the only time that a marked nocturnal buck being studied was seen in the daylight was between the hours of 10:30 am and 3:00 pm.
My own personal hunting experience in south Texas and Mexico confirm that mature and exceptional bucks are often seen while the majority of the hunters are in camp taking an after lunch siesta...!
Exact Sunrise/ Sunset and Moonrise / Moonset times for your hunting location in TEXAS can be obtained by clicking HERE
2000 - 2001
SEPTEMBER
5th- First Quarter
13th- Full Moon
21st- Last Quarter

OCTOBER
5th- First Quarter
13th- Full Moon
20th- Last Quarter
27th- New Moon

NOVEMBER
4th- First Quarter
11th- Full Moon
18th- Last Quarter
25th- New Moon
DECEMBER
4th- First Quarter
11th- Full Moon
18th- Last Quarter
25th- New Moon
JANUARY
2nd- First Quarter
9th- Full Moon
16th- Last Quarter
24th- New Moon