OVERVIEW OF THE REGION
The land, the weather and the costs to hunt
The South Texas Brush Country is roughly defined as the land south of a line drawn between the cities of Corpus Christy, to San Antonio and then to Del Rio. The majority of Texas' trophy bucks come from this region, and the heart of trophy buck country is a triangle formed between lines drawn from Laredo, to Dilley and then to Eagle Pass. See my page showing a listing of all B&C Texas bucks and where they were killed.
The area in Mexico that is best noted for trophy white-tailed deer is an area 50 to 60 miles wide south of the Rio Grande River between the Texas cities of Laredo and Eagle Pass. See my page showing a listing of all B&C Mexican bucks and where they were killed.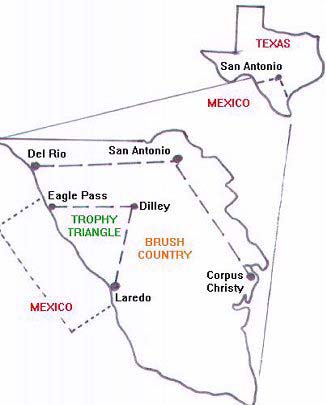 CHECK OUT CURRENT WEATHER CONDITIONS
AND A WEEKLY FORECAST
FOR THE FOLLOWING CITIES:
San Antonio, Laredo, Del Rio and Corpus Christi
Almost all of the land in Texas is privately owned, and much of it is in what most people would consider large tracts. The average South Texas hunting ranch is 5,000 acres with many ranches exceeding 20,000 or more acres. In those areas where management of wildlife is aimed at trophy sized animals, a general rule of thumb is to provide 500 to 1000 ac. per hunter. The ranchers of this state see deer as a serious cash crop; therefore they tend to take exceptional care of the deer and see the dollar value of average south Texas bucks between $2000 and $4000 each. "Book" caliber bucks have a significantly higher value. Most Texas hunters hunt on ranch land that they have leased for the entire season and can expect to pay from $3.00 to $10.00 per acre, depending on the location and trophy potential of the property.
In general the land ownership in Mexico is similar to that in Texas, and the overall costs to hunt are similar to those in South Texas ($2500 to $3000 per gun). A major difference in Mexico is that there are generally fewer deer for a given acreage; therefore the rule of thumb for trophy leases is 1000 up to 2000 ac. per hunter. The situation in Mexico changed drastically with the devaluation of the Peso a few years ago. The landowners became much more aware of the chance that they had to get the Yankee Dollar from hunters and many owners doubled the hunters that they allowed to hunt and consequently dramatically increased hunting pressures. Any hunter going to Mexico needs to be acutely aware that there are now many ranches there that are overhunted and the opportunity for truly fine bucks is considerably dimenished from just a few years ago.
With regard to Mexican hunting, my experience has been that the biggest hassle in hunting Mexico (beyond finding a good location..!!) involves getting the license and gun entry permits. Although I have never had a serious problem in gaining entry, there are times that frustration with the "manana" attitude will come to the fore! Relax and remember that you are the guest in their country. The use of an "Outfitter" in Mexico to take care of the almost endless paperwork can be money well spent..!!
Visitors to Texas or Mexico often use an alternative to leasing that is commonly called a "Package Hunt". In these hunts the complete details of the hunt including transportation, food, lodging, licenses and game processing are handeled by an Outfitter for a single fixed price. The prices vary widely; however they range from $2500 to $5000 or more for a 3 to 5 day hunt. In some instances a special "trophy" fee is applied on top of the package price based on the gross B&C score of the animal taken.
---
A little Texas type music for your pleasure.