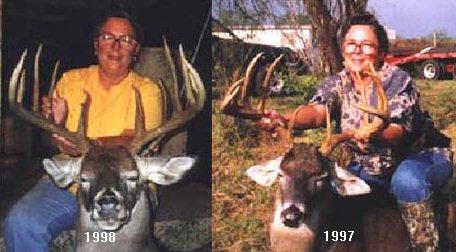 With all the "Jackets" she has won, this lady won't be getting cold..!
One of the "Badges of Honor" that is widely recognized in south Texas by deer hunters is the coveted "Jacket" awarded at the close of each deer season by the Los Cazadores ("The Hunters" in Spanish) contest at Cotulla. A registered hunter is eligible if they take a 160 class buck during the current season, and Sue Mundy, of Sugarland, Texas, falls in that ultra-rare atmosphere with a Jacket Buck in both the 1997 and 1998 seasons..!
Sue hunts in Webb County and has taken about 15 bucks in her 10 years of hunting in south Texas; however these last 2 were her best. The 1997 buck was taken in a pasture filled with livestock and Sue had to sweat out a bull that seemed to her to be shielding this great buck from harm...the way finally came clear and she downed this fine 164 gross buck at 150 yards with a 160 gr. Nosler from her 7mm Mag. The 1998 buck, a 160 gross deer, fell to the same medicine at 125 yards. Sue says that part of her secret to success is to be very unpredictable in hunting so that the smart old bucks never get a chance to "pattern" her. Sounds as if she has the winning combination, a place to hunt that lets deer mature to 6 1/2 years, as both of these bucks were, and a plan of attack that works.
---